Right on the tail of a competitive Saturday of racing, the drivers of the NHKA Racing Series driven by Checkered Flag Indoor Karting will be back on the Hill Course at New Hampshire Motor Speedway going wheel-to-wheel with the competitors of the Northeast Rotax Max Challenge Regional Series.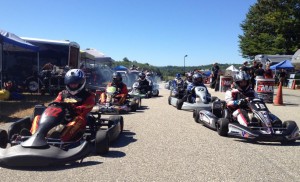 NEW $35 TaG Seniors & Masters Class!
A combined non-points class for TaG Seniors and Masters has been added to Saturday's RMax Program. Now all adult TaG competitors can get on track all three days, and anyone with an RMax-legal TaG engine can race twice on Saturday. That's on top of Friday's all-day open practice and Sunday's NHKA race. We're talking about 300 laps or well over 200 miles of seat time! This is a no brainer. You will leave the track Sunday dog tired but a much better racer. If that doesn't sound like a wicked awesome Labor Day weekend, click here for activities that might be more your speed.
NEW Track Time for New & Non-Karters Saturday Afternoon
At the end of the day Saturday, we're going to open up the track to anyone who'd like to try their hand behind the wheel. So be sure to invite family and friends to come watch some great racing then get out there themselves. It's only $10 per driver plus a pit pass, and of course they'll need to sign the driver's waiver and have a helmet, suit, neck collar and gloves. Oh yeah, a kart wouldn't hurt either!
If you don't know anyone with a kart to use, come up to NHMS anyway and ask for Mike Camarra at the Hill Course… we'll do our best to find you something to drive. If all our racers do their best to invite people, make our karts available (perhaps even to non-deranged strangers) and bring extra safety gear, this could be great way to build our ranks in a hurry! More racers = more fun!!!
Don't Miss the Season's Most Competitive Race Weekend
Registration will be at the track for Friday's Practice and all of Saturday's racing, however you can click here to pre-enter for Sunday's Race 8 of the NHKA Racing Series. This event, presented by Apex Kartsport and CFMotorsports, is the only time in 2013 that drivers from two of the Northeast's top sprint racing series will be on the track at the same time. Between the intense competition, all the seat time and chances to exchange wrenching tips in the pits, this promises to be one of those weekends that could take your racing to the next level. Don't miss out!
Absolutely, Positively Insane Amounts of Seat Time!
THURSDAY Load in Noon-10pm EXTENDED
FRIDAY   All-Day Practice for All Karts
SATURDAY RMax Challenge + TaG Sr. & Masters
Track Time for New & Non-Karters
Cookout & Awards
SUNDAY NHKA Racing Series Race 8

Sunday Trophy Sponsor: Mark Donato/Twocan Racing
Thank you to trophy sponsor Twocan Racing, the father and son duo of Mark and Mark Donato, plus coach and tuner Alex Vorrilas of Apex Kartsports. In 2012, his rookie season, Mark won the NHKA Micro Max Championship. In 2013 they moved up to Mini Max. Wherever their driving passion takes them, we hope they'll keep a hand in karting with the NHKA Racing Series.