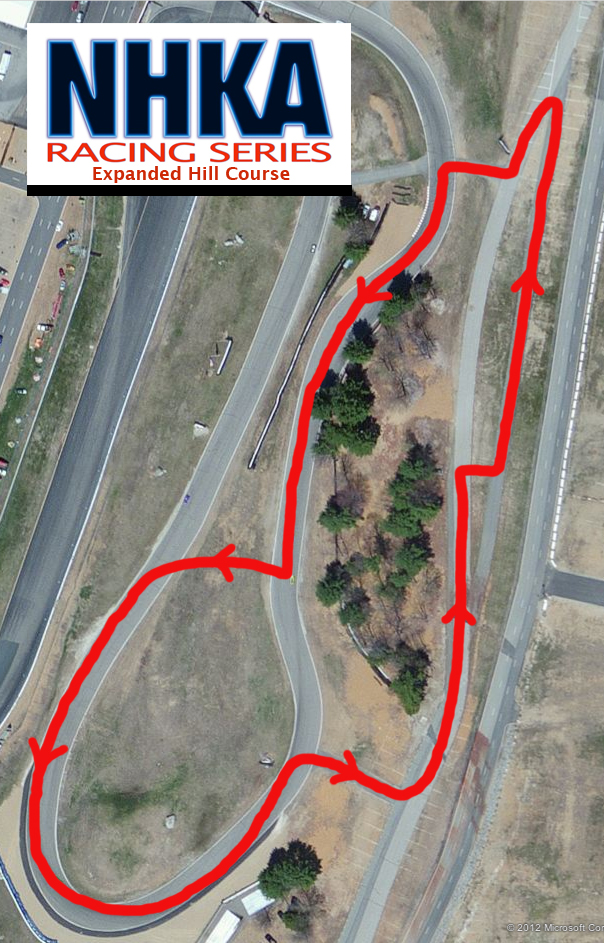 Radical elevation changes, the sweeping banked Bowl turn, high-speed straights, hard-braking zones, tight 90-degree turns, even a hairpin. With NHKA Racing Series' expanded Hill Course at New Hampshire Motor Speedway, Northeast kart racers finally have the new full-length, full-featured sprint track they've been looking for.
The track is a combination of the Hill Course and the area the NHKA had been using as the paddock. It also takes advantage of brand new asphalt at the crest of the hill to make a full oval out of the Bowl for the circle-track karting club. The facility is also putting down fresh asphalt in other areas of the former paddock.
NHKA owners Mike and Lee Camarra were at NHMS recently testing refinements to the .65-mile layout with NHMS officials. Mike reports, "Nobody is going to figure out this track on the first weekend. It strings together low, medium and high-speed areas with tight turns, long straights and sweepers. As a driver and tuner you need to balance one part of the track against the others. This is the kind of challenging track that will keep you thinking race after race." Lee also likes the safety features of the new layout, "it has plenty of run off everywhere and a minimum of chassis-chewing curbs."
The expanded Hill Course is another in NHKA's continuing efforts to develop the series. "We're working hard to give the region's karters the best possible racing and new challenges." said Lee, "New Hampshire Motor Speedway will always be our home track. They're a great partner who is eager to give all racers a place to pursue their passion for motorsports."
"That said, we're leaving no stone unturned in the region," continued Mike. "We're talking with another major racing facility, working on a sprint track at Cannan Fair Speedway, and actively pursuing a variety of other ideas. Stay tuned, it's going to be a fun season."
The first race in 2012 for the NHKA Racing Series is May 12th on the temp track in the S3 lot at NHMS. (Racers get their first shot at the expanded Hill Course June 2nd.) Click here to pre-register for the first race.