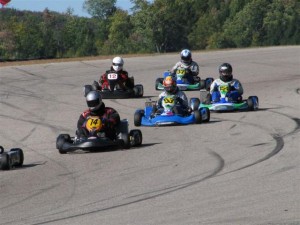 Take three of the Northeast's most competitive karting series, give them two days of near non-stop racing on one of the fastest sprint tracks to hammer out who is the best. It's the NHKA Tripleheader July 30 & 31 at NHMS.
Granite State Kart Championship – Big fields made bigger!
GSKC events typically draw 20+ karts in TaG Masters alone. We're bringing together all those racers with regulars from the Rotax and shifter series to give you perhaps the biggest fields you'll face all season.
Northeast Rotax Max Challenge – Double feature double points!
Every year the Northeast Rotax Max Challenge Series produces National Champions. They'll be racing hard at the NHKA Tripleheader, because both Pre-Final and Final races will be a full 20 laps, and both will count for full championship points.
Northeast Shifter Kart Series – $500 purse!
With cash purses and tight competition, the Northeast Shifter Series has breathed new life into gearbox kart racing. With CFMotorsports upping the purse to an estimated $500, it promises to be some of the most intense racing of the season.
Two Days of All the Racing You Can Handle.
Everyone is welcome to load in Friday night 6-9pm (trackside camping is just $25) to be ready for a full day of racing Saturday starting at 8:15am. Saturday will be GSKC Race 3, and all Rotax and shifter karts are encouraged to join in the action. Saturday night there'll be a cook out. Sunday we'll be back on track with Northeast Rotax Max Challenge Race 7 dual-feature, and Northeast Shifter Series Race 3 with an estimated purse of $500.
The event will be held on the high-speed NHMS Hill course, featuring the legendary Bowl. Clear your calendar July 30 & 31 for one of the Northeast's biggest kart races of the season. Click here to pre-register for Saturday's GSKC race and save a few bucks.