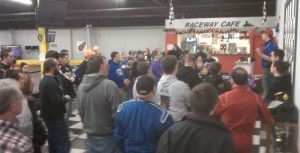 Join all your friends from the NHKA Racing Series at Checkered Flag Indoor Karting to celebrate last year's champions, discuss the 2013 season, and join the fun of the 3rd Annual Race Against Cancer.
Saturday January 26, 2013
Checkered Flag Indoor Karting
239 Neck Rd, Haverhill, MA 01835
CheckeredFlagIndoorKarting.com
3rd Annual Race Against Cancer
9am – 3pm
More racing! Faster speeds! Longer track! Adult & junior divisions! And best of all, proceeds go to Racing Against Cancer™ – a 503(c)(3) non profit. Last year's race was a huge success, a lot of fun and a sell out featuring winning drivers from karting, Legend cars, stock cars and more. Don't miss out on one of Northeast racing's biggest off-season events.
Registrations Due January 18th
Register Online by Clicking Here
2013 NHKA Annual Meeting & Awards Ceremony
3pm (or at the conclusion of the race)
Whether you're in the big race or not, join us at Checkered Flag for the 2013 NHKA Annual Meeting & Awards Ceremony right after the checkers fly. We'll be passing out awards to last season's class champions and looking for your input on the 2013 season. Spaghetti & meatballs, chicken Parmesan, salad, soft drinks and more will be served courtesy of the NHKA. So be sure to check in with Lee by 3pm so he can get a head count for the food order.
Save $10 on Your 2013 NHKA Membership
Sign up for your 2013 NHKA Membership at the Annual Meeting and pay only $30 – that's a 25% discount. Your membership will make you eligible for 2013 championship points, and the proceeds will be put toward special events, year-end awards and supporting the racing you love.
We're looking forward to seeing everyone for a fun day of racing!
Lee, Mike and the NHKA Crew