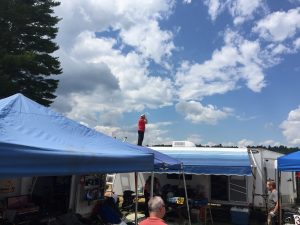 Spectator Information
Pit passes: $15 for adults & $10 for kids under 12
Gates open 7am
Practice & qualifying about 8am-noon
Heats & final races about 12:30-4:30pm
Click here for directions to New Hampshire Motor Speedway
To buy your pit pass, just pull into the track, look for a building on the left with windows like an ice cream stand, and walk up to the one marked NHKA.
Your pit pass will also give you access to other parts of the track for the day depending upon what else is happening – and something almost always is. You might see stock cars or Legend cars screaming around the speedway, cool cars drifting or running time trials in one of the lots. You might be able to drive through the tunnel into the infield to check out the NASCAR garages and victory lane.
Bring the whole family for a fun day at the track learning about how to start racing yourself. For now, check out the New to Karting pages.