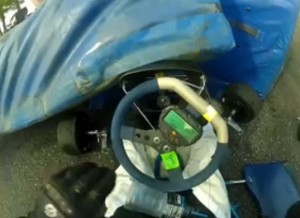 Ready to turn it up a notch? Come to New Hampshire Motor Speedway Saturday July, 6, 2013 for Race 5 of the NHKA Racing Series driven by Checkered Flag Indoor Karting.
With :20 second laps, the S3 Lot temp track is like a buzzing blender on the highest setting. Last time we were there, track temperatures soared over 130 degrees. Things got so intense that a number of racers couldn't get through the first corner of the first lap without a break (so to speak.) Race 5 promises to be just as hot but twice as intense with the addition of drivers from F1 Outdoors vying for double F1 Club points.
This is going to be a wild grand finale to the July 4th weekend you don't want to miss. Before you get distracted by the smell of burgers on the grill, be sure to pre-enter right now!