You most definitely will want to bring your kart to New Hampshire Motor Speedway this Saturday for the season's first race on the Hill. We are expecting a big turnout across every class. We're also expecting lots of sun and temperatures in the upper 70's. If you love to race, this is it!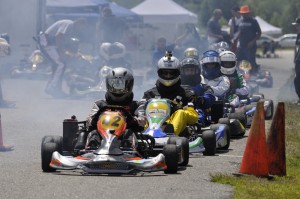 NHKA Racing Series – Race 3
In the first two rounds, the drivers of the NHKA Racing Series driven by Checkered Flag Indoor Karting were confined by rain and the tight turns of the S3 Temp Track. Now one and all are looking forward to letting loose on the high-speed Hill Course. The points after the first two races are in the works right now. So keep your eyes on the Results/Points page to see where you stand in the championship fight.
Interstate Kart Series – Race 2
Saturday's event has the added attraction of also being the second of six races for the all-new Interstate Kart Series. Round one generated sizable fields with a lot of intense competition. Now racers from F1 Outdoors will head north to contend to be the first IKS Champion in their class. If you haven't signed up yet, now's the time. The deadline for having your results included in the IKS championship standings is June 13th. There is absolutely no additional cost to join. Just send an email to mikec@nhka.net

Apex Kartsports Sponsors the Trophies
This weekend's trophies are sponsored by George and Alex of Apex Kartsports. Even with a world championship-winning Legends car team, they are always at NHKA events with the Kartiac Care Ambulance supporting racers with the parts and advice they need. Apex is an authorized dealer for Rotax and World Formula, and a long-time dealer of Intrepid and Top Kart chassis and now Tony Kart too. Learn more about all the ways they can help you race to win, visit ApexKartsports.com